183 points to the loyalty system
Minimalist leather tall boots More
Size
Availability
Price incl. VAT
Quantity (pair)
37
In stock
183,60 €
38
In stock
183,60 €
39
In stock
183,60 €
40
In stock
183,60 €
41
In stock
183,60 €
42
In stock
183,60 €
43
In stock
183,60 €
44
In stock
183,60 €
45
In stock
183,60 €
Next
peerko Empire are beautiful, comfortable and stylish tall boots. They are insulated with felt and thus great to wear from autumn to spring. The combination of a zipper and laces ensures a great fitting and comfort when putting them on and taking them off. peerko Empire are handmade in the EU, in ethical conditions. We use only EU sourced materials, high-quality leather and water-based adhesives, without solvents.
Our flexible minimalist sole brings you luxurious comfort and healthy space for your toes. It is made of flexible, recyclable thermoplastic rubber with a base thickness of 3.5 mm with a 1.5 mm profile. It is glued and sewn to the upper.
Instructions for caring for leather shoes can be found here. You can find some high quality shoe care products on our e-shop.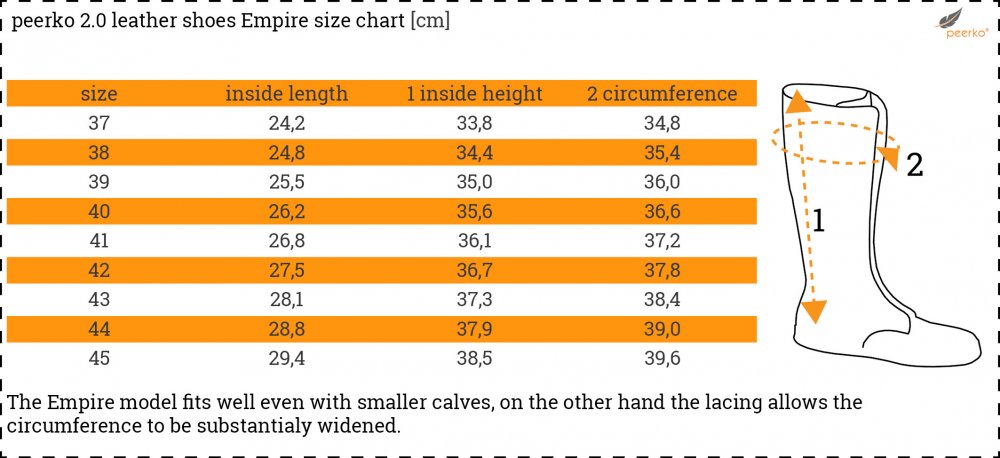 The measurements in the size chart are stated in centimeters. We recommend adding 0.5 -1.2 cm to the length of your foot. More information on how to pick the right size can be found in the Sizing section.